When you think of a floral patterned sofa, chances are you imagine a piece of furniture that is outdated, old and worn. While floral sofas can be slightly dated and awkward, they can also be remarkably modern and fun. Floral upholstery only became so popular in the 1950s, where it drew inspiration from colonial patterns and silhouettes with the (at the time) modern floral fabric (via The Local Flea).
Throughout the 60s, 70s, and 80s, floral-patterned furniture, including sofas, armchairs, loveseats, and settees, became a staple in most homes. These blooms tend to be bigger and more vibrant, with the 60s and 70s seeing fun, colorful designs, while the 80s was more subdued and dark. Floral upholstery has since fallen into disuse, but the shabby chic aesthetic has taken it up with a more delicate and refined modernity. These sofas are the perfect blend of old and new, offering both modern and traditional flair.
1. Inspired by the 70s
If you want a 70s-inspired retro floral, look for something more understated and subtle. Instead of allover florals, opt for floral seat cushions, enhancing the pattern with other colors and florals throughout the room.
2. Classy granny
While not the most modern, granny chic is a design style that breathes new life into a slightly outdated aesthetic. If you stumble upon a beautiful floral sofa at a flea market or thrift store, lean into the grandma vibe with even more florals and vintage finds.
3. Green Accents
Flowers can easily be overwhelming, especially on large pieces of furniture like sofas. Spruce up a busy floral sofa by matching your wall color to the greenery of the pattern.
4. Modern Vintage
Most of the floral sofas you come across will be vintage finds. Lean into it with the modern vintage aesthetic, delicately balancing vintage finds with modern finishes and design approaches.
5. Classic Flowers
A classic floral sofa is a great centerpiece for your room, as long as you know how to keep it from overpowering everything else. Pair it with classic neutrals and simple silhouettes.
6. Green flowers
If soft, feminine florals aren't your thing, go for greenery or green florals. A dark green paint color will distract from the pattern and help it blend seamlessly into the room.
7. Industrial Chic
The industrial aesthetic tends to be a bit austere and one-dimensional. Liven it up a bit with a granny-style floral sofa, perhaps paired with a few other vintage finds to help it blend in.
8. Single Sofa
Add some textual and visual intrigue to an otherwise simple living room with a floral patterned sofa.
9. Double sofas
If you are lucky enough to find a set of floral sofas or loveseats, be bold and put them together in your living room. Keep the rest of the room fairly simple to prevent things from getting too garish.
10. Eclectic
Floral designs tend to be very loud and busy. Lean into it with equally busy decor, opting for an eclectic aesthetic in your home. Keep the colors as matching and neutral as possible so that the room becomes tacky.
11. Living Room Style
Most vintage sofas are not designed for comfort like modern sofas are. Keep your sectional cozy in your living room while displaying your flowery sofa or loveseat in an office or living room environment.
12. Feminine Pink
Floral patterns tend to be quite feminine in both style and color. Have fun and lean towards this more feminine aesthetic with lots of soft colors and textures.
13. Porch Style
A floral loveseat is perfect for your porch. Especially if you have an older home, the vintage silhouette and pattern will go together perfectly.
14. Dark and brooding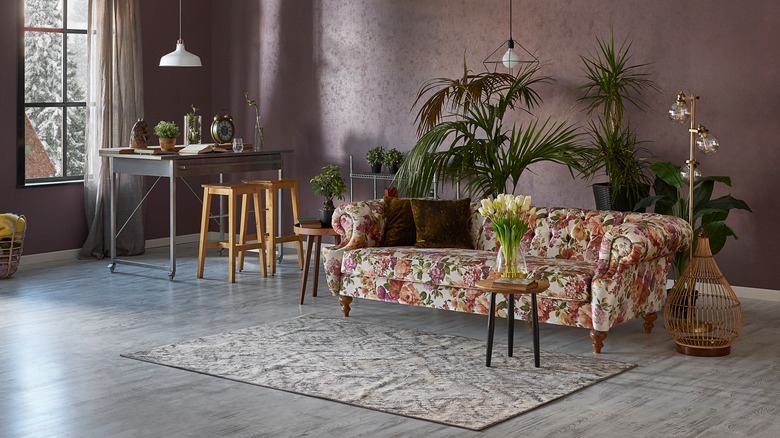 united photo studio / Shutterstock
To modernize a darker floral sofa, lean towards dark colors and incorporate them throughout the room. For example, sample a soft purple hue and paint your walls a slightly darker, flatter version. Pair it with industrial elements like metal and exposed wood.
15. Pop of color
One of the funniest things about flowers is their color. Brighten up a basic room with a bright blue floral sofa.